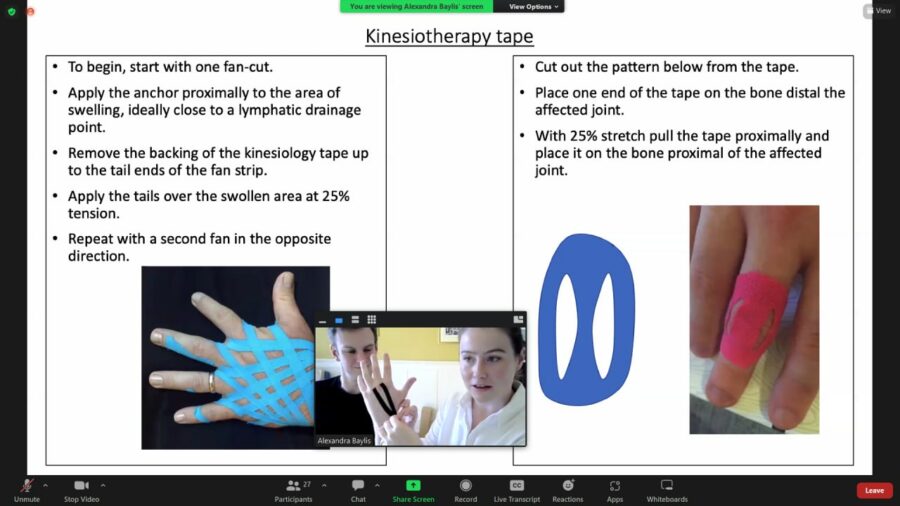 Project Aims
To provide knowledge for therapists in Ukraine with an emphasis on practical skills
To improve the quality of outcome for Ukrainian citizens who suffer hand trauma
To provide Ukrainian hand surgeons the opportunity to explore this specialty
To ensure accessibility by translating the PowerPoint presentations into Ukrainian
To support the development of a hand therapy organisation in Ukraine in the future
To measure success by evaluating each webinar, by monitoring attendance numbers and intermittent feedback of effectiveness
Why it is important
In December 2021 a group of hand surgeons and physiotherapists met with the intention of starting the specialty of hand therapy in Ukraine.  Before this could begin, war broke out.
Ukrainian hospitals are now managing thousands of extensive hand injuries from, for example, gun shots, falling building materials and broken glass.  There are no specialist therapists in Ukraine to help maximise outcome for these victims.  The British Society for Surgery of the Hand has been running very successful weekly webinars to teach and support the hand surgeons in Ukraine.  This initiative provides knowledge, skills and support for the therapists of Ukraine.  The ultimate aim is to maximise outcomes for those victims of war affected by hand injuries.
Over sixty hand therapists from around the world have already pledged their support by offering to teach on these weekly webinars for free.  A small group of us will co-ordinate this initiative; hosting the weekly webinars, translating the written presentations into Ukrainian and providing key resources.